Automatic Gate Repair & Installation Services
Spark Garage is a well-established company providing all kinds of electric gate repair Dallas Tx. We provide high-quality gate repair service at an affordable price for homes, businesses, apartments, and many more establishments.Our install service consists of all residential and commercial driveway gate and gate openers, including Sliding Gates, Swing Gates, Automatic Driveway Gates, Gate Openers, Solar Gate Openers, Remote Controls, and Vehicles Sensors.
Automatic and Electric Gate Repair Dallas, TX
Automatic and Electric gates are widely accepted nowadays and are installed by many homeowners and businesses in Dallas. It provides perfect security to your establishment. Driveways help you keep unwanted visitors and intruders away from your property, providing you full control of your entrance. Besides installation, periodic maintenance and timely repair are essential for all such automatic and electric gates to serve you long.
Spark Garage is one of the most reputed companies in the Dallas area, serving our clients for a long. We provide a complete range of automatic gate repair Dallas. We provide professional service by well trained, experienced, and reliable gate technicians. We utilize the highest quality spare available, ensuring your electric driveway functions smoothly and serve you for long.

Whether your driveway has a sliding gate, swing gate, or dual swing, our efficient technician team can repair them all for you. We analyze your gate problem and then fix it. Being a prominent provider of

Electric gate repair 

Dallas 

we take pride in providing quality services in your area at a very affordable price.

 
We also offer various electronic gate repair services for driveways, including automatic gate repair, gate opener repair, welding repairs for iron gates, and multiple access systems.
Automatic Gate Installation in Dallas, Texas
Installation of New Driveway Gate.
Installation of Pedestrian Gate.
Installation of Security Gate.
Installation of Residential Gate Opener.
Installation of New Access Control.
Installation of Operator Stand & Keypad Stand.
Installation of Slide V-Track.
Loop Installation.
commercial gates

customize driveway gate
Dallas Gate Repair Service in Dallas, Texas
Post Reset & Replacement.
Gate Re-hanging.
Gate Hinge Adjustment and Replacement.
Rust Removal from gait.
Repainting of Gait.
Providing Wrought Iron Metal Repair.
Providing Privacy Modifications.
Various Welding Services.
Wide variety of Preventative Maintenance.
We are specialists in the repair and install of all automatic driveway gates, providing our services in Dallas, Highland Park, Plano, Allen, McKinney, Prosper, Lucas, Fairview, Frisco, Southlake, Keller, & all adjoining cities.
Pointers Suggesting Your Gate Need Service and Repair
Periodic maintenance and repair are very essential for your electronic gates and gate openers. Timely care can save you a huge in comparison to gates, which ultimately stops working. Below are some pointers which suggest that your automatic gate requires servicing:
If your driveway gate is making squeaking or grinding noise, it suggests that friction is hindering its smooth functioning and requires calibration and greasing.

If your Electric gate chain is real loose, it indicates that something is wrong. It might be a sprocket which moves the chain or some other type of issue needing immediate attention.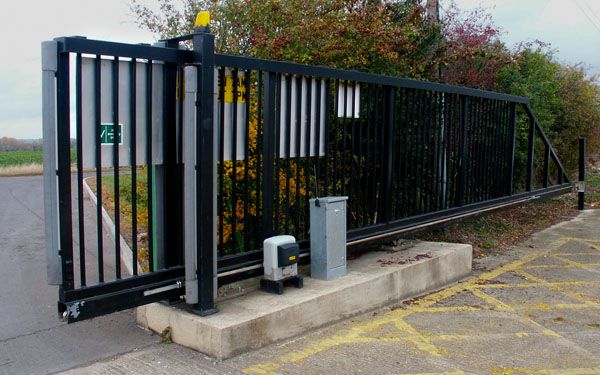 If your electric gate is slamming against the post when opening or closing. It indicates malfunctioning of the spring, which is not holding the door up. The issue with the chain in the automatic door may also cause such problems.
Slow movement of gait than usual. There can be a variety of causes like rust, wear and tear, weak batteries, loose bolts, etc. causing your garage door to move slow, which needs immediate attention.
Spark Garage Door – Best Automatic Gate Repair Company in Dallas
Spark Garage is a leading automatic gate specialists Dallas having expertise in a variety of door services such as garage door spring repair, door repair, installation, maintenance, 24×7 emergency repair, new garage doors, and many more. Over a period of time, we have established ourselves as the most trusted and reliable gate repair company Dallas providing a complete solution for your garage door repair and replacement. With our fast response time, excellent customer service, and branded top quality product, we are amongst the best garage door repair and replacement services in Plano, Frisco, Parker, St-paul, Fort-worth and Carrollton .
Wide Range of Automatic Gate Repair & Installation Services near Dallas, TX
Electric Gate Repair.
Automatic Gate Repair.
Gate Opener Repair.
Gate Operator Repair.
Routine Maintenance for Gates & Gate Openers.
Installation of New Gate.
Complete diagnostic for all kinds of gates.
Service determining gate issue and repair problem.
Replacement of Complete Gate System.

Working with established 

Dallas gate repair

 and door specialists allows you to customize your garage doors, ensuring the best fit and style as per your wants and needs. Utilizing the latest technology with a wide variety of styles, colors, materials, and brands, we ensure our services exceed your expectations.
What You Can Expect From Spark Garage Door Experts
On-time service appointments.
Emergency services.
No additional charge for weekend appointments.
Friendly and professional services.
Quality workmanship.
Well trained and experienced technicians.
Complete customer satisfaction.